Dominating the old Burrishoole cemetery stand the ruins of the fifteenth century Dominican Abbey.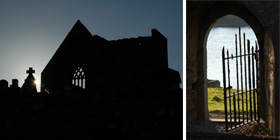 De Burgo chalice
The best known Burrishoole chalice, known as the De Burgo chalice, is in the National Museum where it is on display. This chalice was discovered in 1896, folded up with some church vestments.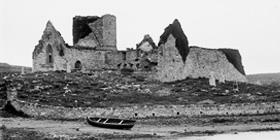 The Abbey
The Abbey was abandoned in 1698 with the expulsion of the Catholic clergy under the penal laws. The Abbey roof eventually collapsed in 1793.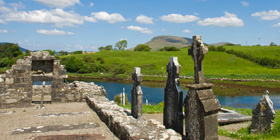 Burrishoole Martyrs
Beside the Burrishoole Bridge is a shrine of Our Lady Queen of Martyrs. The shrine is built to commemorate the two Dominican tertiaries Honoria de Burgo and Honoria Magaen, martyrs of the Cromwellian period.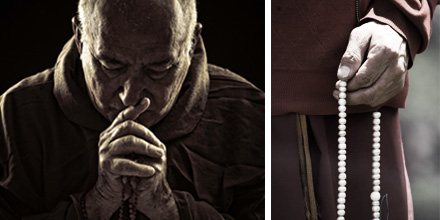 St Dominick's

Tradition

In 1752 Richard Pococke records that "they have a great Pattern of Festival there on August 4th, St Dominick's days, it is the ancient Parish Church of Burisool". The tradition continues to this day.
Burrishoole Abbey
Burrishoole Abbey which was founded in 1469, by Richard (Burke) de Burgo was originally a wooden structure. The Abbey was situated alongside the old town, on the port of Burrishoole. In the 14th and 15th centuries the harbour was a very busy one, with trade exceeding that of Galway Bay. Clew Bay was even listed on Italian Maps of that time.
Despite its remoteness, Friars from the Abbey travelled to the continent where they are recorded to have worked and studied in Spain and Louvain, Belgium and France.